Welcome to Scilm America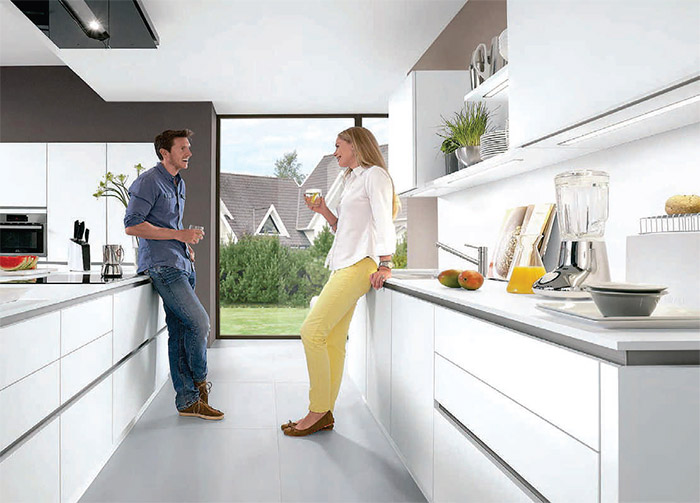 Scilm, family owned and operated offers leading-edge technology to the global furniture industry. Our products and systems offer the manufacturing professional innovative solutions and enhancements to the woodworking industry.
Since 1974 Scilm has been specializing in the kitchen/cabinetry/furniture component industry. We are a long standing supplier to major Italian and European kitchen designers. This success has been achieved thanks to technology, taste and the "Made in Italy" euro style and standard.
We not only supply components but true systems and accessories suitable to build modern, practical and robust kitchens. We offer quality products for American homes that are modular, quickly assembled, and render kitchens practically eternal.
All products made entirely in Italy and are readily available in the US, shipping from our warehouse in Atlanta, Georgia.
Scilm products meet the industry's stringent environmental regulations, ISO certification for quality, functionality, contemporary design, and durability.
Euro Style Furniture Components
Why...
It's the best way to install your cabinets.
Quick to install, no tools required

Cabinets built on Legs are easier to handle and have less chances of being damaged

Cabinets on legs are easier to package, stack and ship

Cabinet protection against water and dirt

Cabinet Legs provide easy access for electrical, plumbing and cleaning

Water resistant

Lower cost than toe kick notched gables
Why...
It offers a practical way to design a "European handle free" kitchen.
Innovative design

Easier to clean

New version can be fi nished with 50mm/60mm x 1mm laminated or decorative strips according to your design

New version offers the possibility to create innovative design using LED strip lights

Safety feature: no handles exceeding the doors

Lower cost than traditional handles

New horizontal "GOLA" profiles are designed to achieve different aesthetic results combining the modern look of the aluminum with a classic recessed handle or a 45° cut door, utilizing the same cut on the cabinets as for the J & C Shapes (8006 & 8007)
Why...
It's an effective, practical and economical way to build not only the sink cabinet, but all base cabinets.
Complete system for the construction of the cabinets;

Quick to install

Economical: no need for backs, roofs or edge banded stretchers or rails

Cabinets built with aluminum crossbars are extremely durable, stronger and provide easier and safer handling as well as giving a modern flair

Easy to manage: bars are to be cut to size and plastic accessories are designed to complete the assembly

Options: the accessory 6588TP01 provides reinforced cross structure for stronger support

Options: the accessory CSP0149-01SF provides attachment to the "GOLA 8006" without the need to use support SU106 or SU126

Options: the accessory CSP0121-01SF provides fastening to the countertop
Contact Us
info@scilmamerica.com
Phone:
954-323-0123
Fax:
954-281-5434
1835 E. Hallandale Beach Blvd. Suite 590
Hallandale Beach, Fl. 33009